When I wanted to get headtracking with my Skyzone SKY-01, I thought it would be as easy as plug & play. But it's not.
I found a lot of partial information over the internet, and wanted to share with a more complete version.
The configuration has to be done:
on the Skyzone Goggles AND
on your Futaba transmitter
Note that I'm using the following setup on my TBS Discovery:
DJI Naza-m V2
Zenmuse H3-2D with GoPro Hero4 Silver (no pan, only tilt)
Skyzone configuration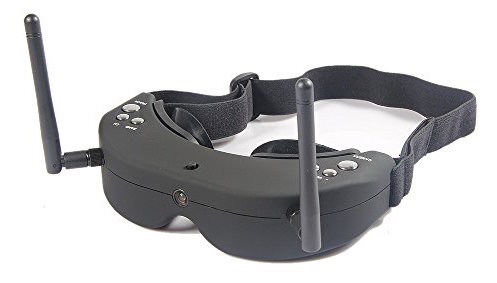 We begin with the goggles. By default, they use channel 5 for pan and channel 6 for tilt.
To change this setting:
Press and Hold Button "TRACK", then connect power to enter Head Tracker Setup Menu (Release as soon as beep). Head Tracker beeps indicating the current PPM Channel. See details below.
Short Press "TRACK" Button to select different PPM Channels
Here are the Beep PPM Channel:
1 short beep Pan CH5, Tilt CH6 (Factory default)
2 short beep Pan CH5, Tilt CH7
3 short beep Pan CH5, Tilt CH8
4 short beep Pan CH6, Tilt CH7
5 short beep Pan CH6, Tilt CH8
6 short beep Pan CH7, Tilt CH8
In my case, I wanted to use channel 8, so 5 and 6 beeps are both valid options.
You can now unplugged the power cable.
Your goggles are now configured!
Futaba configuration
This was the tricky part for me. But now I can explain you how to do.
Trainer
Long Press on +
Go to third screen
Select TRAINER
TRAINER master must be set to OFF
Every channel can be turned OFF, except channel 8:AU2, which needs to be set to FNC. It will be used to the Skyzone tilt.
Exit with END.
P.MIX1-6
Now go to P.MIX1-6 and:
Create a new mix on the first slot
Set RATEL and H to -100%
MASTER to AU2 (we take the tilt channel 8)
SLAVE to GER (we route it to the GER, channel 5)
SW to SwH (it is the Trainer Switch of the Futaba T8J)
POSI to DOWN (when switch will be down, headtracking will be enabled)
Exit with END, twice.
Tests
To enable your headtracker, you have to push the H switch. This switch cannot be blocked in the active position without a trick (see bellow).
When you active this switch, you can move your head up and down and your gimbal will follow.
Note that you have a TRACK button on your goggles. It allows you to reset the center position with a short press.